2.4 Duratorq Engine - Twin Wheel Axle
4,100kg (Down rated to 3,500kg)
Seating Capacity 3 (inc driver)
GVM - 3,500kgs / GTM - 4,500 kgs / Axle 1 - 1,650 kgs / Axle 2 - 2,950 kgs
For Sale - ebay Listing HereOpen to Offers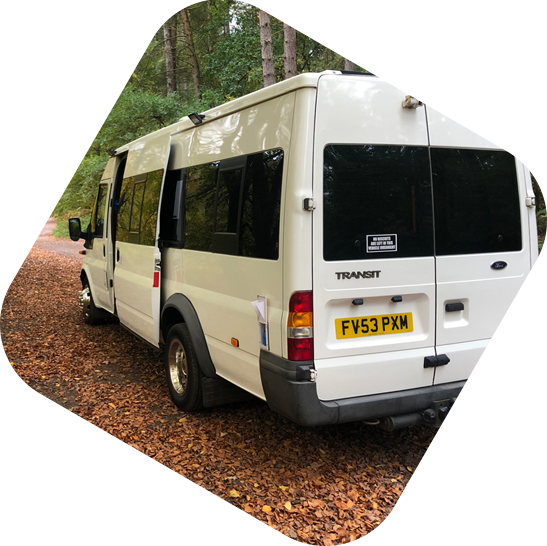 Ford Transit MiniBus (Jumbo)
2.4 Duratorq Engine
Less than 85,000 Miles
Twin Wheel Axle
3,500kg (Down rated from 4,100kg)
Seating Capacity 3 inc driver
100% Zero Wood build
100% Fire Rated Build Material Selection
100% All Electric (SMART-UPS)
100% Zero Acoustic Carpet
VanTrunk Space Frame (Steel)
Foamed PVC Cladding (PalRAM)
Technical Fabric Finishing
Completely Self sufficient / Off-Grid Capability
Enclosed & Secured Power System - Child safe
Massive 600W High Efficiency SOLAR Panels
400Ah of LiFePo4 Phosphate Batteries - No Expense spared!
5kW (10kW Surge) True Sine wave off-grid solar Inverter
13x 230v Sockets with USB outlets
Solo Power System - AutoSwitch to EHU
Touch Glass Switches - RF Sensing light switches
2x 10w External LED Flood Lights
70L Fresh Water Tank
70L Grey Water Tank
10L/min diaphragm lift pump with accumulator
External Water Hook Up - run live or tank fill option (Hoselock type)
Electric Flush Cassette Toilet
Mixer Shower
15L Immersion Heater (for shower)
Instant Heat HOT Water (Kitchenette)
Combination Oven / Grill / Flatbed Technology Microwave (Panasonic)
Dual Induction Hobbs (Induction Pans included)
Thermal HeatPipe fridge - Peltier Cell / Gas Hybrid (Milk/Meat Safe)
Kitchenette auto-Vent extraction fan
FULL 46" Double Bed - Fold up drop end - No Making up (Doubles as secure upper Cargo hold)
Corner Grouped Seating - Storage below
INTERNET Router - 4G/LTE SIM Card Router TP-Link MR200 Archer
32" Samsung Smart TV
PS4 Slim c/w new titles
USB HDD for TV Record function
Concealed TV Antenna
500W Ceramic Panel Heater
Electric Motorised roller blinds
Automotive Upholstery with blue piping
Automotive Floor Carpet
Concealed SAFE
Central Locking Controls
INVERTER Remote Boot Up
Inverter remote control display
The Power System
ELV Supply - Blade FUSE Box (Right side - lower cargo hold)
Lights and Sockets RCD protected Consumer Unit (Secured in Inverter enclosure - left, lower cargo hold)
The vehicle used to belong to Wolf Mountain in Wolverhampton, where is was used as a 16 seat minibus. The vehicle had some 83,000 miles on the clock when it first came to us, we believe the mileage to be accurate given the condition of the vehicle key locks and other parts and wear. We have carried out several mechanical services to the vehicle, which include the following:
New suspension legs (front)
New bottom ball joints (front)
New Anti-roll bar drop links (front)
New Brake Discs and Pads (front)
New Clutch & Flywheel
New Gearbox Bell Housing
Full Service - Oil / oil filters / fuel filter / air filter
New Bosch aero blade wiper
New Rear Light Clusters
New Rear Bumper Ends
New Side Door Rollers
New Reverse Light Switch
Towing hitch
Dual View Reversing Camera
48v Power Take off for Inverter (used to compliment batteries.. not to supply full loads)
Kenwood Double DIN HeadUnit; CD / DAB / Radio / MP3 / iPod / Aux..
Kenwood 150W-RMS 2-Channel Amplifier
125W 6x9 5-way Door Speakers for your musical enjoyment
Wireless Mobile Phone Dash Mount / Charger
Armstrong windows converted to Electric, fresh air at your finger tips.
DashCam
Steering Wheel Crook Lock
Fire Extinguisher (Under passenger seat)
Engine RUN-LOCK (Remove the keys from ignition, engine will continue to run; until handbrake or brake pedal is touched)
2 Full Sets of Keys and Alarm remotes.
Genuine EuroLiner Polished Chrome pressed steel Wheel Trims
Security notes

Multiple Security Benefits - Discussed with buyer under Non-disclosure agreement.